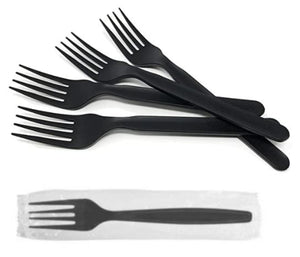 100% Compostable heavyweight forks, made of NON-GMO cornstarch biobase.
Our heavy weight compostable forks are 7" length for added comfort and sturdiness during use.
100 Heavy Weight Disposable and Biodegradable / Compostable CPLA Forks in stylish and attractive black color.
Our CPLA compostable forks are BPI certified to meet ASTM D6400 and EN13432 Standards. This standard is achieved only when CPLA cutlery composts in less than 180 days in a commercial facility.
BPA free and heat resistant up to 180 degrees.
Available Individually Wrapped and Bulk.